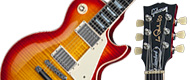 The most versatile Standard yet, with a superbly comfortable asymmetrical neck profile and easy-bending compound radius 'board. …read more
Source:: Les Paul Standard 2015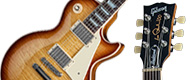 Gibson USA's only guitar with hand wiring, no weight relief and the thickest neck make it the most traditional Les Paul in the 2015 lineup. …read more
Source:: Les Paul Traditional 2015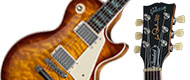 A stunning Standard with abalone inlays and a luscious quilted maple top. …read more
Source:: Les Paul Standard Premium Quilt 2015
I love simple compressor pedals, it's hard enough for guitarists to understand compression without a myriad of controls to twiddle. The updated DOD Compressor 280 has just two controls, Comp and Output. Even I can figure that one out! Turn the Comp knob to add the amount of compression you want and adjust the output level to taste.
Like its predecessor, the DOD Compressor 280 (2014) offers independent Compression and Output controls. True bypass allows your guitar tone to remain pristine even when the DOD 280 (2014) is off. This is a big difference from the original, which would color your bypassed tone. The modern 9V DC power supply input makes the pedal more pedalboard friendly.
"The Compressor 280 employs an electro-optical circuit that varies the amount of the pedal's dynamic compression using a light-dependent resistor and internal LED. At lower settings the "Comp" knob adds a subtle volume-leveling effect that adds a touch of evenness to the guitar's signal, bringing up the level of low-volume playing and limiting the maximum volume of harder-hit single-note passages and chords. At higher settings the Comp knob "squashes" the initial attack and raises the level of notes and chords as they decay. The Level …read more
Source:: DOD Compressor 280 (2014)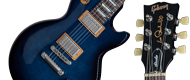 From classic fat tones to coil splitting, all in a great-value Les Paul that looks better than ever. …read more
Source:: Les Paul Studio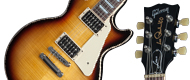 Authentic Les Paul tones and looks, versatile coil splitting, and a contoured, extra-slim back for more comfort than ever. …read more
Source:: Les Paul Less Plus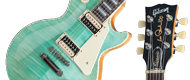 Classic looks, coil splitting and built-in Turbo Boost, in a full-bore Les Paul at an incredible price. …read more
Source:: Les Paul Classic
That Guitar Show. A show for guitar players by guitar players. The guitars. The people. The stories. You can help make it happen!
Although the trailer has no content so to speak I like the idea of a guitar show that travels coast to coast meeting guitar players, builders, collectors etc. The goal is to raise $50,000 so that they can produce 5-10 broadcast quality webisodes, with a long term goal of airing on a network, on cable or online (Netflix, Hulu, Amazon, etc.). Money raised will fund camera rentals, travel, editing, post-production, lighting, direction, art direction and other production-related expenses.
"That Guitar Show and its producers have a background in the guitar world that allows for unprecedented access to the characters that inhabit the guitar universe."
As with all Kickstarter campaigns there are plenty of rewards for donations, everything from guitar picks to a 50th Anniversary 1959 Gibson Les Paul Standard – #149 of only 500 made, although that particular guitar comes at the price of a $10,000 donation!
I think I speak for all guitarists when I say the world needs more quality guitar TV shows so if everyone donates anything from $5 we can …read more
Source:: 'That Guitar Show' Kickstarter Campaign
I have never personally heard the original TWA Little Dipper but I have a couple of pedals that have vocal formant filters and I think they are great fun and although aimed at a very specific sound can actually be used in many different situations. This type of effect can also lead to inspiring you to explore new ideas so it is great as a riff or solo brainstorming tool.
The TWA Little Dipper® MkII is "an envelope-controlled vocal formant filter based on the uber-rare Colorsound Dipthonizer circuit" which, for this new version has "improved tracking, fuller frequency response, lower noise floor, and a pedalboard-friendly chassis", over it's predecessor.
The Little Dipper's® dual filters will bend and morph your guitar tone into a blabbering, gurgling fury, creating frequency peaks and notches that simulate the vowels and diphthongs of human speech!
You can get a lot of different types of sounds from The Little Dipper as Andy from Pro Guitar Shop demonstrates in the video below. You can emulate talkboxes, filters, phasers, or flangers or even an AutoWah.
The following changes/upgrades have been added to the Little Dipper® Mk II that were not present on the LD-01 –